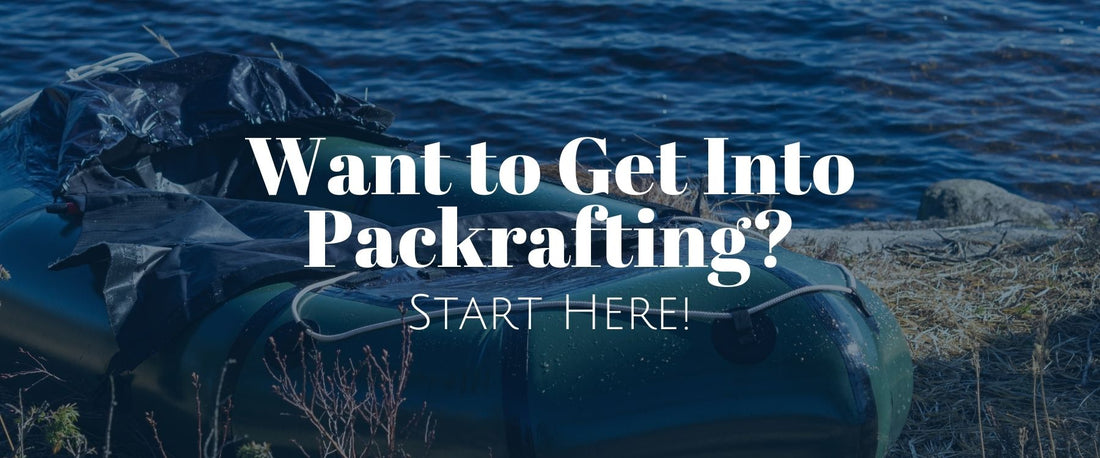 Want to Get Into Packrafting? Start Here!
Anyone who's backpacked their rubber down into the Gunni Gorge or shouldered a kayak in and out of Rockwood Box will tell you: it's nice to have a light boat. Enter packrafting. I've been rafting with an old-school outdoorsman who was astonished by how much stuff our crew brought into the wilderness: speakers, enough fake leis to outfit the entire desert, 300 glowsticks, cases on cases of beer, an entire cooler dedicated solely to "cocktail ice"… In a Venn diagram of rafting and packrafting lifestyles, there isn't much in the overlap. If you're accustomed to a lush situation and are ready to adopt the minimalist lifestyle you've admired, let this be your guide.
The Unique Joys of Packrafting: Why try it?
Have you been hiking or biking and seen a lake you'd love to fish or a falls you'd kill to boat? The beauty of packrafting is that it allows for a combined-sport outing. Get in your boating without sacrificing a weekend of biking, skiing, or canyoneering—when you can throw your boat in a backpack you can have it all. Especially in a post-pandemic world which has people flooding into the outdoors, packrafters have much fuller access to what's boatable versus passengers of full-weight boats competing for permits on well-known stretches. Maybe you've got a garage full of toys and are low on storage space, or you're a city-slicker, living a flight away from the backcountry mecca you've been eyeing. Trailer and extra PTO days are no longer required when your raft fits in your carry-on. Ultra-light is the name of this game. Without boatloads of baggage and coolers of cocktail ice, any put-in you can access on two feet is in play.
Choosing your Packraft
Choose your craft based on what level of meat you're hitting. Are you exploring an alpine lake, or an adrenaline junkie looking for class IV rapids? Whitewater packrafts will have either removable or built-in sprayskirts and are slimmer to be more maneuverable. Alpacka's Wolverine model is even designed to be rolled by a skilled boater. On the other end of the spectrum, something like the Forager Tandem can carry multiple passengers, gear for a multi-week outing, or a large game animal. In the middle are options that have enough room to support you plus your kiddo, dog, bike, or gear for a multi-day jaunt.
Safety First: Your PFD and Helmet 
Your packrafting pfd and helmet will likely be the standard issue that you may already own. They don't weigh much and can be worn or be strapped to the outside of your pack. Lake lovers can get away with the ultra-light, inflatable options, but moving water always requires a proper, whitewater pfd. 
Choosing a Paddle
The world of paddles have options with varying degrees of packability. Kayak paddles break down in as many as 4 pieces for maximum ease of travel, though some strength is sacrificed in each break point. For hitting higher class rapids, a two- or one-piece paddle will be well-matched to the pressure on the other side of blade.
Dry Bags for Packrafting
Since you probably can't afford the weight of your Bill's bag this go around, pack your raft and necessities in a light backpack that has a small footprint when it's not in use. A smaller dry bag will keep your base layers and sleeping bag water-free. These slim, roll-top bags are designed to clip into the sides of your Alpacka raft, keeping the weight evenly distributed, while their zippered counterparts offer a heavy-duty option which can double as secondary air-chambers (required on some permits).  Alpacka's bow bag is the perfect safe spot for your lunch, phone, or anything you want to have access to throughout the day's adventure.
Compact Camp Kitchen Tips
Your evening's camp kitchen can be as simple as a small-but-mighty camp stove (this one weighs in at just over a pound) and a delicious, packable meal. You might not be packing in the cold ones on a long hike but a bit of whiskey in a packable flask won't slow you down too much. If your hydration pack might need a top off during your outing, bring a light-weight filter or a dromedary for when packed-in water is a must. For the Southwesterners who know a thing about silt, alum will expedite the settling process – no more waiting overnight!
Taking Care of Business - Light!
No matter how remote you're getting, help keep that wilderness wild. WAG bags are a portable, light-weight way to make sure you're not leaving anything unpleasant behind for another explorer to discover. Some rivers require specific carry-out systems, so check before you go. Either way, you'll want a rigid, waterproof container to manage the used bags.
Know Before You Go - Getting your Info
As with any backcountry trip, know as much as you can before you go. Practice set up and take down, get on the water before heading out on your first multi-day trip. Even to an experienced kayaker or rafter, being in a packraft is a unique boating experience and may take a bit of practice before it feels comfortable. Get good beta on the area you're heading into, whether from rangers, online forums, or a guidebook. I love this one, which focuses on slots and other hard-to-reach spots in the Grand Canyon best accessed with packrafts and other techy transport. For a broader guide, The Packraft Handbook is an excellent go-to.
Repairs in Remote Places
As packrafts are designed to be lightweight, they won't quite match up to the burly rubber on your 14' NRS and small repairs are part of the job. Learn the ins and outs of your raft and your repair kit before getting her wet. Always have a basic repair kit including aquaseal and tear-aid in case of a rainy day. Mind the sand in those packraft zippers – a great way to spring a leak. A good zipper lube will help repel organic matter that could compromise you. The repair guide on Alpacka's website gives a thorough analysis of how to deal with almost any maintenance situation. Warn the group when you spot wood debris or potential hazards in the waterway and get off the water if you're seeing them often. Remember—you have the world's best boat for portaging, so take advantage when needed. As with any boat trip, you'll want a competent boater with you who can be trusted with running safety, setting up a throw rope, and helping decide when to portage.
In Short
With the outdoors seeming smaller and smaller as more enthusiasts take to the wilderness, it's never been a better time to get into packrafting. Grab your climbing gear, bike, splitboard, or fishing rod and find your next little-known, secret spot.