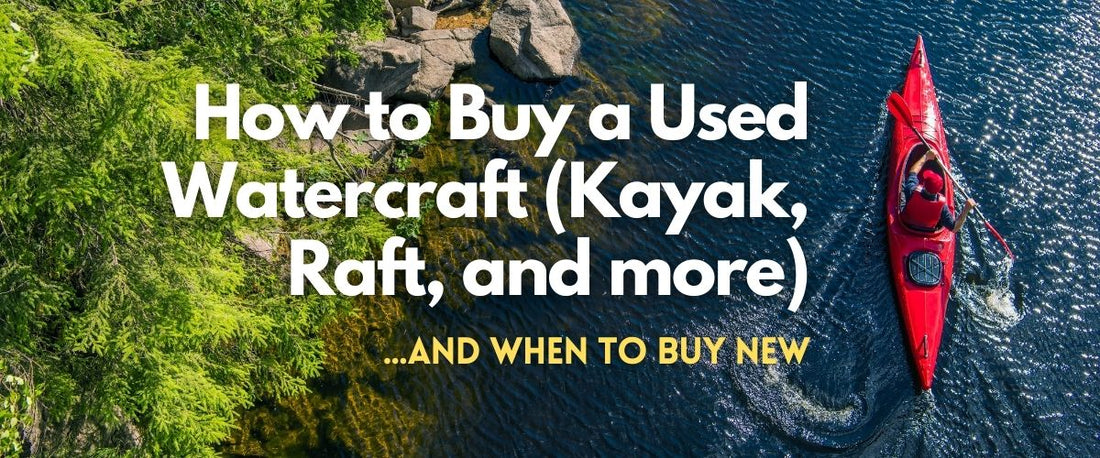 How to Buy a Used Watercraft (Kayak, Raft, and more) and When to Buy New
The 4CRS Spring Swap is back for 2021! Are you excited? If you love the water, you probably are. And you better believe we are too!
In anticipation of this huge boat and river gear event, we thought we'd pull together some of our top tips and tricks for finding the right watercraft for your riversports needs. Below, we'll go through some of the important things to look out for when buying second-hand kayaks, rafts, inflatable kayaks, and stand up paddle boards.
Kayaks
Owning your own kayak can give you the freedom to hit the river any time the desire strikes you, and we will have plenty to choose from at the Spring Swap. Before you arrive, have an idea of what kind of kayak you're looking for: recreational, touring, whitewater, and self support all have very different qualities, and you'll want to be sure you know your own needs! After that's been solidified in your mind, it's time to shop.
When checking out a second-hand kayak for purchase, be sure to inspect it. Normal wear and tear are expected of a used watercraft, but there are some major things to look out for:
Improper storage:

If the kayak was stored improperly (laying out in the sun, not suspended off the ground, or exposed to harsh elements over time), the shape of the kayak's hull may have become bent or twisted. Warpage will affect the kayak's performance negatively. In addition, you should look inside the kayak for noticeable water damage (if water was sitting inside the body for extended periods of time), and smell for mildew.

Hull damage:

Check the cockpit rim for any cracks, flip the boat over for oil canning, and look at the bow and stern for denting. Some scratches and small gouges are normal, but you'll want to make sure it won't cause larger issues down the line!

Outfitting damage:

The fittings are most likely where you'll find damage from usage, and depending on the level of deterioration, even a "sweet deal" can turn into a money sink if too many fittings need to be replaced. You should be sure to check the status of (if applicable to the specific boat)–hatch covers, foot pegs, seats and thigh/knee pads, deck rigging, bolts, and rudder or skeg.
Rafts & IKs
If you're in the market for an inflatable river craft like a raft or IK (inflatable kayak, also often called a "ducky"), you'll want to know what to look for to make sure you get the best second hand product you can. If you're looking for something easy to roll up and transport, throw in the back of a friend's ride on the way to the next river trip, an IK could be a good fit.
Rafts are the larger of the inflatable options. If you've got the partner, the new dog, you scored a permit for a multi-day trip that really would be better spent with several 30-racks of beer, and by golly, it sure would be nice to be able to catch some shade along the way (maybe with a nice bimini), a raft is probably for you!
Buying a used inflatable boat can open up new horizons for you on the river. However, be sure to keep an eye out for the following:
Prior repairs (Patches):

While a few patches shouldn't be a deal breaker, it's a good rule of thumb that the fewer the patches, the better the boat. Patches require a closer eye and potentially more maintenance over time. Check that any patches on the skin have been applied appropriately so no edges are coming up. Seeing duct tape? Unless you're into a project, that's a good sign to say "No, thanks".

Condition of the hardware:

Check the D rings, valves, handles, and other hard parts to make sure they're securely attached and do the job they're meant to do. Any issues here also wouldn't be a deal breaker, but could add up in cost for you to replace or repair.

Leaks along the body or floor:

The last thing you want is a boat that won't hold air. Check that the PVC/Hypalon of the raft is smooth with no cracks or wrinkles, and also be cautious of worn spots. You'll want to check the bottom of the boat for wear and tear as well. It's always best to see the boat fully inflated, so if it's looking limp, just ask the seller if they could give it a few more pumps. After it's pumped up, another good practice is to let some air out of each chamber individually. Air should not leak between chambers.

Seating condition:

If the seating are inflatable tubes, check these for damage and repairs as well The tubes should hold air, and should attach to the boat firmly.

And the Oars:

If oars are being included along with the boat, check these for cracks, breaks, or bends in the handles, and assess their strength and durability.
Stand Up Paddle Boards (SUPs)
The stand up paddle board craze has fully hit, and there's no better time to hop on board than at the Spring Swap. Before purchasing your own SUP, think about whether you'd like an inflatable or hard board, something more stable (wider and shorter), or faster (narrower and longer), and what weight it will need to hold (the higher the volume, the more weight it can carry). Additionally, if you plan to have a puppy passenger, some SUPs are specifically designed with our four-legged friends in mind!
Once you've settled on some of the qualities you need, you can check out the used SUPs while looking out for the following:
Inflatable SUPs:
Fins:

The bottom of a stand up paddle board will have one or more fins. There's likely more wear and tear on this component than other parts of the SUP. But, for most models, the fins are easily replaceable and not too expensive. Check that the fins are replaceable if they have some damage!

Repairs and patches:

You will yet again want to be wary of patches and repairs. Make sure the repairs are professional looking, and even better if you can confirm that it holds air without issue.

Wear and tear:

The bottom of the SUP is most likely to have damage. Be extra careful when examining the bottom of any board you're considering adding to your fleet.
Hardboard SUPs:
Fins and Fin Box:

Check over the fin box and look for cracks or damage. If there's damage that warrants replacing, it will be something of a project to swap out! Depending on the type of fin box, the fins should be much easier to replace, but it doesn't hurt to check them out too.

Water in the board:

If the board has been damaged, there's a possibility it's taken on water (water has entered the inside of the board). You can verify this by checking the weight of the board.

Wear and tear:

For hard boards, you may want to check that the top foam mat is still glued to the board, and isn't peeling off. Regarding the body, you'll want to be extra careful examining for damage since they're made out of fiberglass. Check for major gouges or dents along the sides and bottom.
But wait! When should I buy new?
Buying used is great in certain circumstances, but buying new might be the right choice for you. There can be awesome perks for buying new. 4CRS, for example, has a price match guarantee, and also provides a 15% discount on accessories purchased alongside a new boat (kayak, raft, IK, SUP, etc.). With deals like that, it may actually lighten the burden on your wallet to purchase new. Also, different manufacturers have different warranties that can seriously help you out down the line. Always do your due diligence to make the best decision you can make!
Whether you're selecting something used or new, you're embarking on a new journey by purchasing a river craft that suits your adventure needs. If you have any questions during the purchasing process, please don't hesitate to reach out to us and ask our seasoned staff! We'll see you at the Spring Swap, April 17-18!