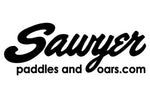 Regular price
$0.00
Sale price
$125.00
Unit price
per
Sale
Sold out
Gilman Grips Oar Handles deliver a significant performance advantage by eliminating unintentionally spin in your hand. This is accomplished by utilizing the most ergonomic shape and by providing your hand with twice the surface area, where you need it most. This grip design requires a fraction of the hand strength required to hang onto and properly control a traditional oar grip, resulting in less shoulder, wrist, and hand fatigue so that you can enjoy more glorious days on the river.
Dual durometer grip with a glass filled Polypropylene under mold and a high grade TPE overmold
TPE gasket to keep water out of the oar shaft
Insert molded a10mm grade 12.9 bolt into the Polypropylene undermold for added weight and strength
Bi-directional groves in the cylinder for better adhesion to the oar shaft
Internal counter balance option that will come in at just under 3 LBS each
Clocking/indexing marks for fine tuning the installation for your rowing style
Right and left handed marks on each grip for easy identification
Gilman Grips logos in two locations
Texture surface of the TPE for a no slip high performance feel
Two material, two color grip for style and performance
Sold in pairs. One right and one left. Includes removable counter balance.
Can be installed on any Sawyer Oar Shaft in place of factory handles. Contact us for pricing.
Share
View full details