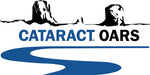 Regular price
$0.00
Sale price
$240.45
Unit price
per
Sale
Sold out
You don't have to know rocket science to row a boat, but it helps to have gear made by a company who does. Cataract shafts have twice the breaking strength of aluminum, and are made with the same filament wound glass/carbon/epoxy composite technology used by the aerospace industry. These oars perform like no others, translating muscle energy into stroke power more effectively than other oars, giving you the ultimate in oar responsiveness.
The Cataract SGG Rope Wrap Counter Balanced Oar Shaft flexes and rebounds like wood without the weight or need for maintenance. They are ideal for most water conditions and boat sizes. Shafts and blades are interchangeable with Carlisle or Sawyer models. The handle area has a four pound weight added. This counters the weight of the oar out past the oarlock. In a day's rowing, you lift that oar out of the water hundreds of times. This takes a lot of the work out of your outing! Shaft comes with rope wrap and rubber stopper, for quiet rowing.
Oar blade sold separately. Length listed measured with blades.
Material: Glass/carbon/epoxy composite
4 pound counterbalance weight in handle
1 Rubber Oar Stopper
Rope wrap in 20" in length
Rope wrap begins 20" below handle base on 9' oars
Rope wrap begins 22" below handle base on 10' oars
Shaft rebounds like wood
Length of Shaft w/out Blade:
8 = 5'9"
8.5 = 6'3"
9 = 6'9"
9.5 = 7'3"
10 = 7'9"
Share
View full details