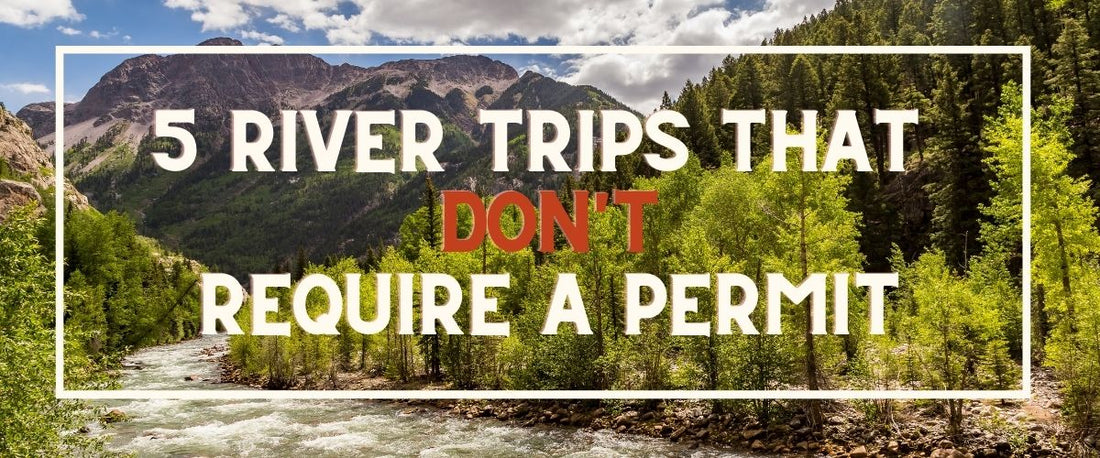 5 River Trips That Don't Require a Permit
Permit season was rough this year and a lot of people who didn't score permits are wondering where to have their summer adventures. Here are our top 5 favorite non permitted adventures in the area! Happy paddling!
1. Moab Daily
2. Piedra River
3. Animas River
4. Mesa Canyon
Beautiful Scenery and smooth sailing on the Moab Daily
This 13 mile stretch of the Colorado River that runs from Hittle Bottom Recreation Area to Take Out Beach Landing Boat Ramp parallels state Route 128. Beginning at Dewey Bridge you can float all the way to Moab with great campsites and beautiful scenery throughout the stretch. Easy boater access, close proximity to the city of Moab, moderate rapids, and wonderful scenery make this one of our favorite floats on the list.

Depending on water levels, rapids on this section range from Class I to Class III. If you are interested in camping, here's the scoop: Special regulations apply for boaters wishing to camp along the "Daily" section. Overnight camping on river right is allowed only in designated sites between Dewey Bridge and Salt Wash (the boundary of Arches National Park). On river left, people must camp in BLM developed campgrounds (dispersed camping is not allowed on this side of the river in order to protect resources).
We highly recommend the River Maps Guide to Canyonlands – Colorado & Green Rivers which you can pick up at the shop or on our website by clicking here.
A high mountain gem — The Piedra River
Flowing south out of the San Juan Mountains to join the San Juan River to form Lake Navajo, this river offers exceptionally beautiful and varied wild trout fishing for large fish combined with a long and interesting Class IV whitewater run. Uncrowded and remote it is a high mountain gem. Running early in spring the window for river runners can be short. Like the Animas, the Piedra is cold with a high altitude put-in. This run is mostly a forested journey with beautiful scenery. Be aware that the Piedra flows early. It usually peaks during the second half of May. The gauge can be deceiving, especially early in the season, since it is below the takeout and several other tributaries. We recommend a minimum of 800-1000 cfs on the gauge early in the season.

There is a Class II-III run from the normal take-out down to Navajo Lake. This section is more open, through ranch land and has great fishing. However, be VERY CAREFUL (especially early in the season) as many ranchers string barbed wire fences across the river. The take-out for this lower stretch is just north of Arboles on river left. You can check out our full guide to the Piedra by clicking here.
Don't forget our local river: The Animas
There is a lot to be said for our local river. It's dynamic with different runs to fit every level of paddler. The season on the Animas River is longer than that of most Colorado streams. Heavy run-off from snowmelt and summer rains usually continues until mid-June. The Animas may remain navigable into late August or early September, depending upon weather conditions.

Looking for something new to do on the Animas? Check out the lower Animas from Durango to the San Juan Confluence! The Animas below Durango is a scenic and seldom paddled stretch, but is increasing in popularity. This stretch, like many others on the Animas, has some access issues – so make sure you know where you can put in and take out before you go. You can download a detailed guide and printable map for the Animas by clicking here, or you can visit our website guide by clicking here.
Close to home Mesa Canyon on the Upper San Juan

This is a great place for beginners to give the river a try. Oftentimes combined with the Pagosa town run, Mesa Canyon flows south through a scenic canyon where beginners can test their skill on the small rapids that top out with solid class III. The most action comes from a handful of manmade ledges, and a few natural rapids shortly after.
Pay attention to stream side signage which encourages paddling parties to stay on the water. This is a long day run with slow moving water along most of the 13.4 miles stretch. The scenery is beautiful and you can't beat the close proximity to Durango.
Diverse river segments in the Upper Colorado River
The Upper Colorado River Recreation Area spans a unique and beautiful landscape, known for its diverse water features, abundant wildlife, and cultural landscapes.
Notable segments of the Upper Colorado River include Parshall to Blue River, Gore Canyon, Pumphouse to State Bridge, and State Bridge to Dotsero. The most popular of these segments, Pumphouse to State Bridge, offers camping facilities at Pumphouse and Radium recreation sites. The area combines placid boating waters through pastoral heritage ranchlands with more challenging Class II and III rapids in the intervening canyons.
Extreme Class IV and V whitewater rafting and kayaking exist in Gore Canyon. The Pumphouse Recreation Site also offers the Gore Canyon Whitewater Park with large boulders placed on the bed of the river to create waves and whitewater for kayakers, stand-up paddle boarders and other whitewater enthusiasts. You can find more information about the Upper Colorado River in our Rivermaps Guide located here.
Honorable Mention for the Dolores River
This one is absolutely one of our favorite trips, but this high-desert gem, which has scenery that rivals that of the Grand Canyon, has been tragically de-watered for years on end, thanks to over-allocation for crops that are unsustainable in a desert environment. This has left the lower Dolores below McPhee Reservoir with 40cfs or less most of the year, nearly destroying the habitat for native fish and other wildlife in the canyon. This one gets an honorable mention this year, simply because we don't think there will be enough snow to run it this year. Fingers crossed for 2022. You can check out our guide for the Dolores by clicking here.
Have questions about other rivers, your gear? Or just want to say hi? Drop by our shop in Durango