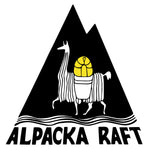 Regular price
$0.00
Sale price
$1,900.00
Unit price
per
Sale
Sold out
The Alpacka Gnarwhal Whitewater Pack Raft with Whitewater Deck is the biggest, most stable and most forgiving whitewater packraft in Alpaca's line-up. With its next generation Rally Hull design, ergonomic seating, and 4-point thigh straps, the Gnarwhal is ideal for building skills and confidence, carrying heavy loads, and charging hard on high volume runs. Made locally in Mancos, CO, the Gnarwhal is built around the Rally Hull, high-performance whitewater rigging, Cargo Fly zipper internal storage system, and either a Whitewater Deck or Self Bailing configuration. The Rally Hull is our highest performance whitewater hull with a center panel stern for stability and forgiveness and a rockered bow for punching over holes and carving eddy turns. You'll love the Gnarwhal if you want a forgiving and easy to paddle packraft that takes the intimidation out of paddling moderate whitewater, if you want to charge hard in bigger water and features, or if you need to carry a large cargo load on a long trip.
Novice and intermediate paddlers will get the most from the Gnarwhal's unmatched stability and forgiveness, which makes rapids fun so that you can focus on honing your technique and building confidence without worrying about getting flipped every time you make a mistake. Advanced paddlers get the most from the Gnarwhal by setting up early and paddling hard, making it ideal for high volume rivers and messy features that require speed, power, and stability to clean.
The Gnarwhal is higher volume than the Wolverine to maximize stability, forgiveness, and weight capacity. The whitewater rigging includes an adjustable foam backband, ¾ length seat and foot brace and patented 4-point thigh straps. Both the Wolverine and Gnarwhal can be reliably rolled by skilled boaters with thigh straps, but the Wolverine roll is a bit easier for most people. The Gnarwhal and Wolverine are sized to fit most average sized adults, but larger and heavier (over 6'0" and 200lbs) paddlers will fit better in the Gnarwhal while smaller and lighter paddlers (under 5'7" and 150lbs) will fit better in the Wolverine.
Shape: Rally Hull
Tube Diameter: 11.7-inch
Fit: Whitewater (See sizing and specifications below)
Seating: 3/4 Length WW Seat, WW Foot Brace, Adjustable Foam Backband, 4-point Thigh Straps
Configuration: Whitewater Deck ( Removable whitewater decks are available by special order. )
Cargo Fly Zipper
Valve:

Temper assist valve for inflation and deflation

Attachments: 4 bow grab loops, 2 stern grab loops, 2 double D-Rings, 2 ankle loops, 2 multi-slot strap plates, and two strap plates
Materials: Proprietary 210-denier high count nylon hull* and 840-denier ballistic nylon floor (Made in USA). Custom Multi-Color and Vectran upgrade options available.
Includes: Inflation Bag, Stuff Sack, and Basic Repair Kit
Weight: 9 to 9.6 lbs
Packed Size: 20" x 10"
Share
View full details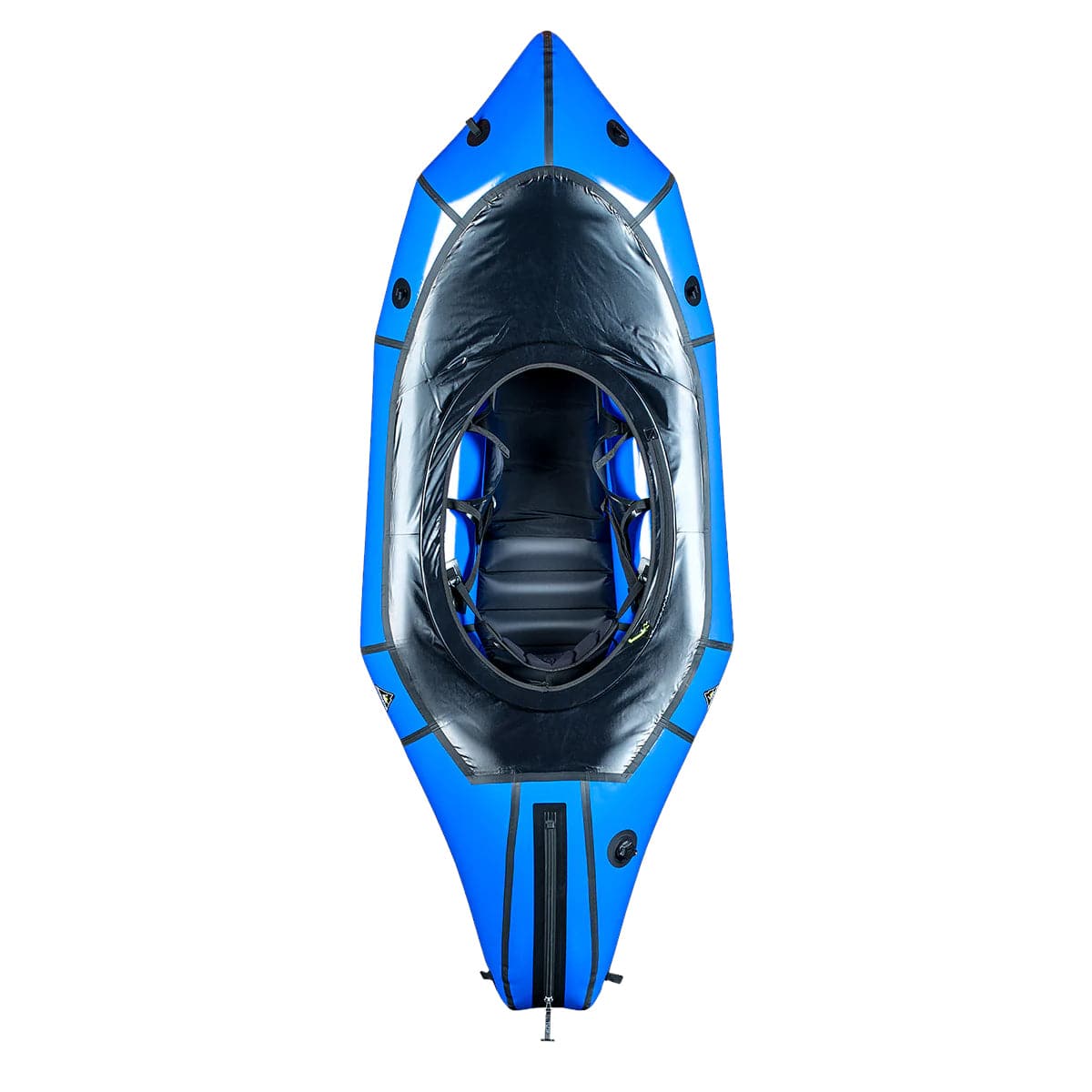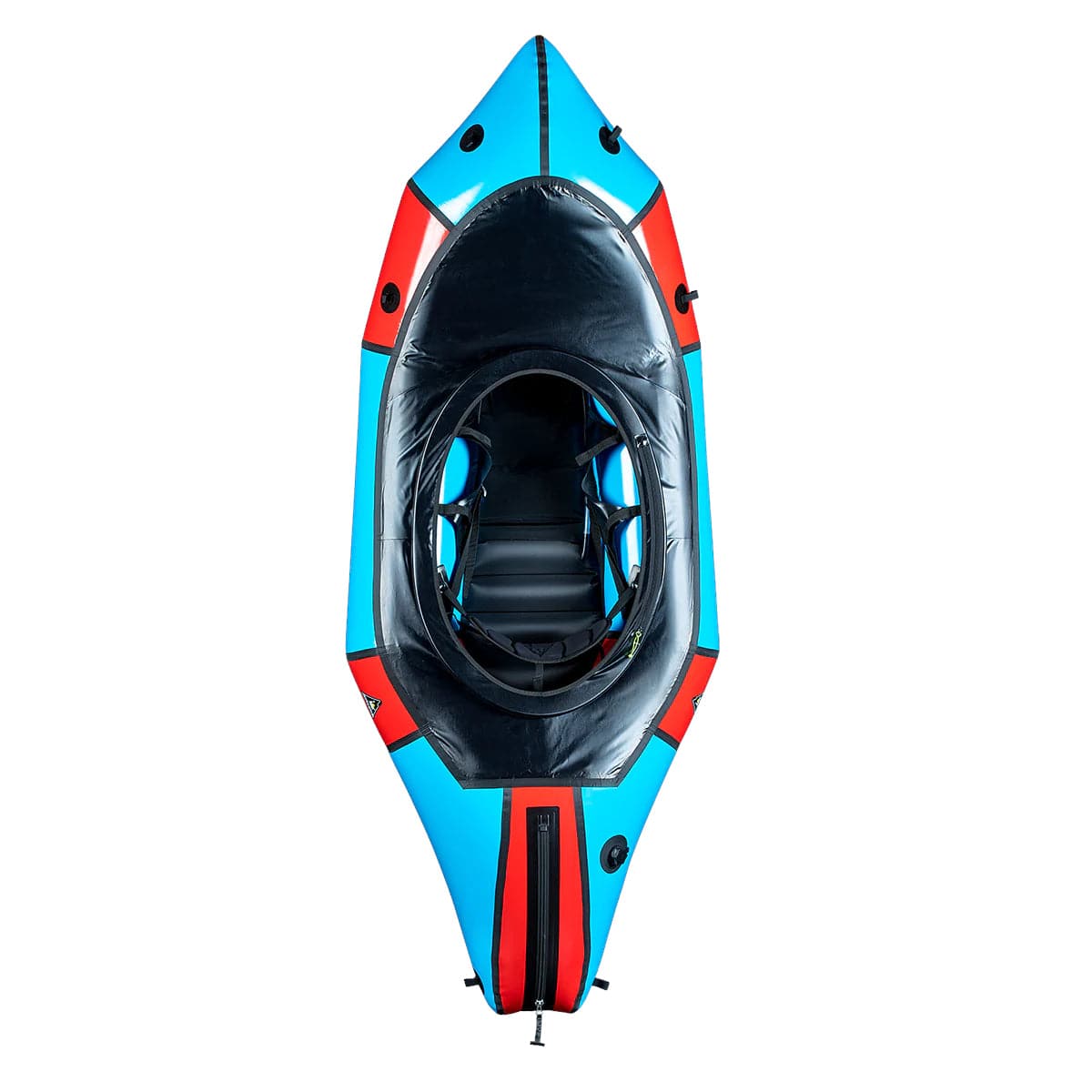 Sizing Chart

Sizing
Small
Medium
Large
X-Large
Paddler Sit Length
36-41in | 91-104cm
39-43in | 99-109cm
42-46in | 107-117cm
45-50in | 114-127cm
Exterior Length
92in | 234cm
94in | 239cm
97in | 246cm
100in | 254cm
Exterior Width
38in | 97cm
38in | 97cm
38in | 97cm
38in | 97cm
Interior Length
41in | 104cm
43in | 109cm
46in | 117cm
49in | 124cm
Width at Hips
15in | 38cm
15in | 38cm
15in | 38cm
15in | 38cm
Max Capacity*
450lb | 204kg
450lb | 204kg
450lb | 204kg
450lb | 204kg
*Max Capacity is the maximum total weight (paddlers and cargo) that the boat can reasonably carry in flatwater under ideal conditions. Actual capacity for any given trip will vary widely based on the paddler's skill and water conditions. Please review our weight carrying capacity guide for further details.