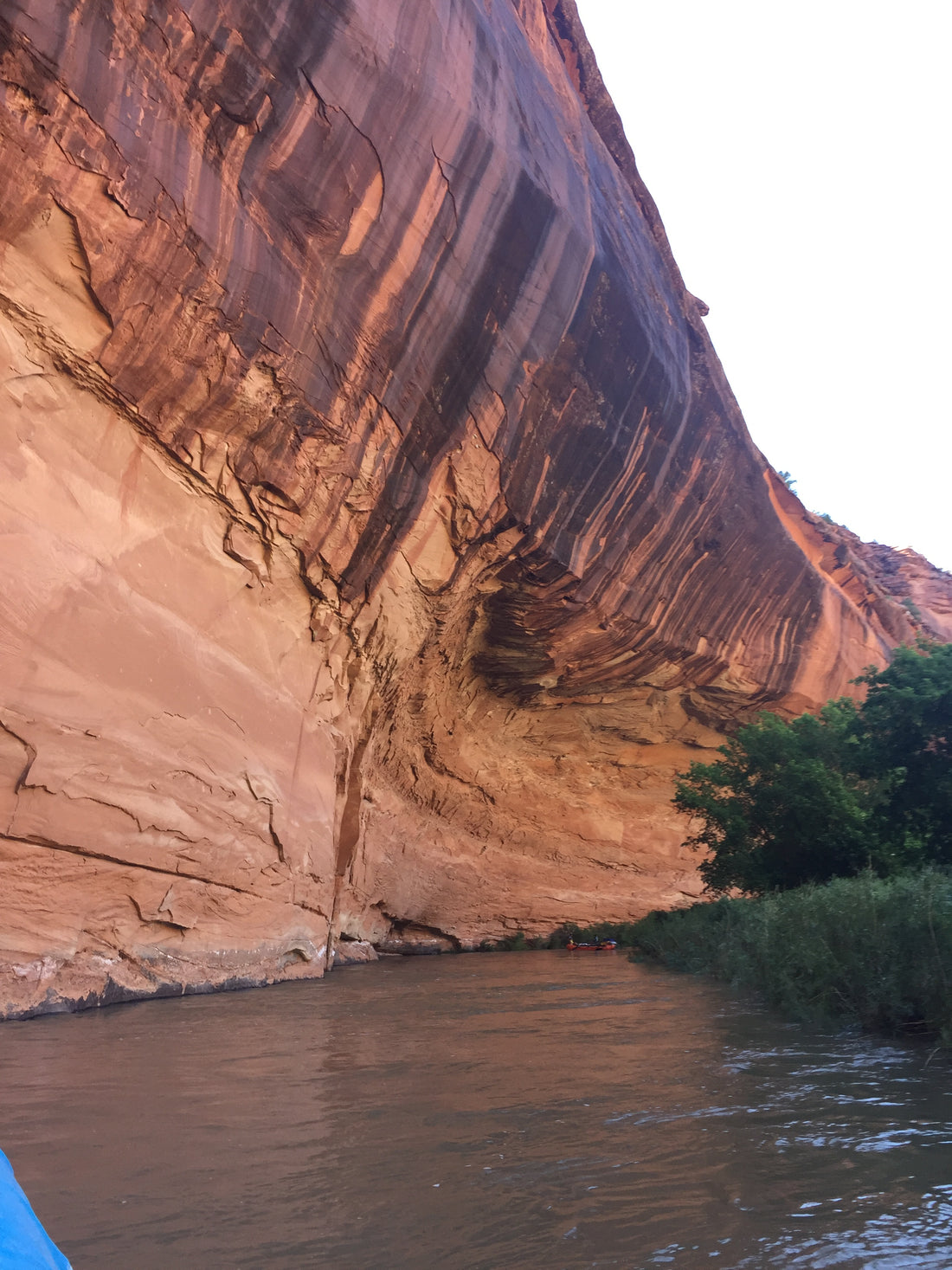 Trip Report- Dolores River from Gypsum Valley Boat Ramp to Bedrock Boat Ramp
By BLM River Ranger Josh Munson
Saturday May 13th to Monday May 15th
Starting CFS at Gypsum – 3,700
Ending CFS at Bedrock – 3,950
Craft – 10.5 ft Mini-Max
Gypsum Boat Ramp – The was very busy Friday morning with a line of truck and trailers waiting to launch and groups continued to arrive throughout the afternoon and evening. Saturday morning seven groups launched. The parking lot began to have light flooding at 3,700 CFS. On Monday the water had covered all the campsites and was running ankle deep through the parking lot. It looked like you could still drive to the boat ramp. People in kayaks and IKs were launching from the day use area on the north end of the site. At 3,950 cfs the flooding covers the entire parking lot. There were reports of vehicles getting stuck so please do not drive in the flooded areas.
Bedrock Boat Ramp – Big eddy at lowest take-out. Small eddy at upper take-out, but you may not be able to back a trailer to this spot as the parking lot was experiencing some minor flooding. Both shelters at the southern end of the parking lot were flooded.
River Conditions -
River was running fast at 5-6 miles per hour in the narrower canyon sections. Slightly slower speed in the wider sections and toward Bedrock.
Eddy fences were strong with large boils in many places. This could be challenging for people in small crafts or beginners.
Water was very cold and very swift.
Rapids –
Bull Canyon Rapid; mile 66.7– Obviously much bigger than usual so you can run far away from the river left wall. Large waves on river right as you turn left and enter the rapid. Waves river center and river left at the end.
Le Luge Rapid; mile 69.9 – Washed out but with an easily avoidable lateral on river left.
Unnamed Rapids; miles 70 to 72 – There were a bunch of unnamed rapids caused by the large boulders described in the guidebook. Wave trains, boils and bigger eddy fences coming off the large boulders.
Anderson Rapid; mile 71.9 – Washed out.
Pirates Cove; mile 79.2 – Very strong currents and boils between the big boulders, but generally slow-moving water.
Spring Canyon Rapid; mile 82.1- Three to four large holes at the top of the rapid stretching most of the way across the river. You can still run to the right of the holes. The rocks and sleepers in the rest of the rapid were covered. Lots of waves and splashes.
One Holer Rapid; mile 91.9 – Washed out.
La Sal Rapid; 92.7 – Washed out.
S-Curve Rapid; mile 93.7 – Strong eddy and boiling current on river right at the first left hand bend starting the rapid. Washed out after that.
Madame Curie Rapid; mile 95 – Washed out.
Camps and Other Attractions –
In general, most of the camps were viable at 3,950 cfs. Some were diminished in size. Camps described in the guidebook as "low water camps" were often not available. Boaters have created a few new camps not noted in the guidebook.
Remember to be kind, helpful and gracious with other boaters/campers especially during the weekend.
Do not take large camps if you are a small group or be willing to invite another group to join you.
64.2 Camp – Viable. Best to land before or after the corner.
New Camp – River left across from Camp 64.2.
Shaman Cave is not a camp. Need to fight your way through the willows to land.
Not Bull Canyon Camp – Viable but small, 2-3 tents
Bull Canyon Camps 1 and 2 – Viable. Willows in the way while landing.
Overhang Camp – Viable with easy landing.
Anderson Archeology Site is not a camp but there is a small eddy or you can land and fight through the willows.
Anderson Camp #1 – Viable with easy landing, 1-2 tents. The typical sand beach is gone. You can now hike back to Anderson Archeology Site. The poison ivy apparently did not survive the last three years of drought.
Anderson Camp #2 – Viable with willow and Pinion/Juniper at landing. It looked like another group could camp a little further downstream.
72.4 Camp – Not viable.
NOTE – Opps! The Notch is located in the wrong spot on the map. The dot and label should be just down from mile 75.
Potential New Camp at mile 73.7 on river right. It looked like people had camped behind the willows.
The Grotto – Viable with a nice eddy for landing.
Leach Creek – You could land 1-2 rafts at the mouth of the creek and do the short hike.
77.7 Camp – Viable.
Library Camp – Completely washed out. Not Viable.
Fire Scar Camp – Viable
83.3 Camp – Overgrown and not used.
84 and 84.1 Camps – Viable
Potential New Camp at mile 84.5 on river left. People have been camping here.
Wood's Bench Camp – Viable with enough room for several groups. Covered in cheat grass.
Coyotes 1, 2 and 3 – All viable
85.6 and 84.8 Camps – Not viable or overgrown
Muleshoe Camp – Viable but you have to fight to get through the willows.
87.9 and 88.2 Camps – Overgrown and no sign of use.
88.6 Camp – Viable
Potential New Camps – River right above and below mile 89
89 Camp – Viable
Bip Rock – Viable
Big Sandy – Not viable, washed out
Accordion – Viable
90.4 and 90.6 – Viable
Potential New Camp – River right just past 90.4 Camp.
Dino Camp – Not viable, washed out