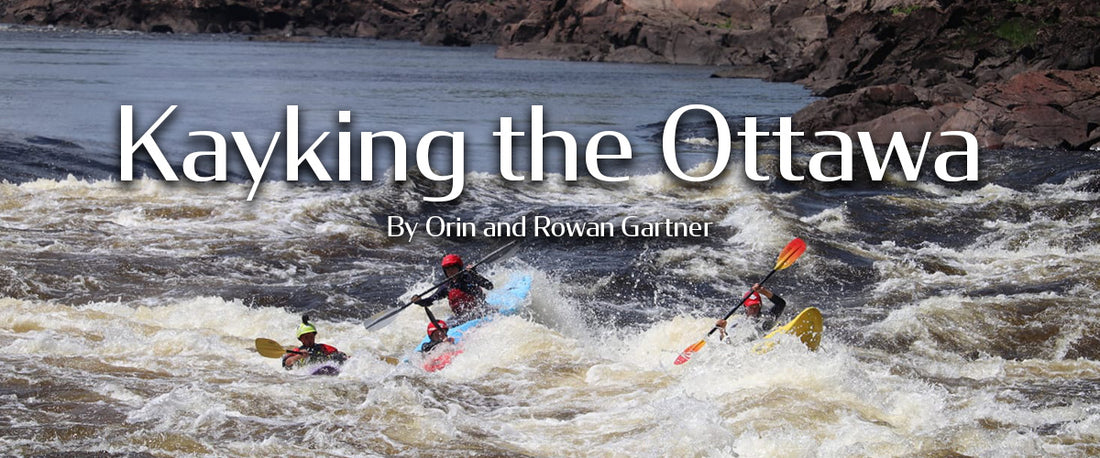 Kayaking the Ottawa with the Gartners
4CRS Athletes Orin and Rowan on the Ottawa River
We have a family cottage about 4 hours from the Ottawa River. That is where it started. We took a drive on a boat to the marina and then got in our Place Shuttle (Our trusty van) and started to drive to Ottawa. We got to Steven and Clay Wright's (Not Brothers) complex when it was getting dark. We borrowed some Antix's and started to Esprit Whitewater Rafting. We would be sleeping and going down the river with them. On the way we got some food. Once we got there we went to bed.
When we woke up we ate breakfast and got on the bus to transport us to the put in. On the bus James did a hilarious safety speech (the classic river guide speech, mostly containing jokes). By the time we got there we had been briefed and were pumped up. We got dressed while the clients hopped in the boats. We got in our boats just as they shoved off. We started down the morning with channels flat water. The flat water went by fast and we were at the Iron Ring. Iron ring was made by the loggers. The loggers blew up the channel to keep the logs from getting in the rapid that used to be there. They ended up making an even bigger log jam. We went through it with no problems and paddled to butterfly. Butterfly is a long tongue to a hole. It was only good for the rafts. Once we got back to paddling we went through some flat water and we got to Dragon's tongue.
Dragon's tongue is a big hard rapid that only my Dad ran. It has two parts, a drop and a string of holes called the elevator shaft. There is a big keeper hole and if you get stuck in it you have to do live bait. (Live bait is where someone with a rope jumps in and grabs the person that is stuck and the people on land pull the live bait into shore.) After we got through Dragon's tongue (left)  we got to the Ostrom rapids.
Upper Ostrom is a long string of Class 3 fun. It has some fun holes in it and it is a medium sized rapid. Lower Ostrom is a bit harder. My dad swam because he tried to surf a hole that was right in front of a sticky pour over. After you get through the Ostrom rapids you take out and get lunch. Every lunch is the same and the guides bring their own lunch because they are sick of the lunches. After lunch, you get on the bus and drive back to the put-in and start the afternoon channel. 
We started by going through a long bit of flat water until we got to Garbarator (The Lorne leads into the Garb). Garbarator is a big wave that has a gigantic hole that is not sticky at all. It was my favorite rapid! After Garb we get to a world class surfing wave. I surfed there but it was too small for my Antix. I later borrowed a play boat. After that we get to Butchers Knife. Named because the current pushes up against sharp rocks on the right wall. After some ripples we get to the jumping rock.
We all stopped and started climbing to jump off the rock. It is about a 20ft drop to the water and it is super fun! When you jump you have to start swimming right away or you will get swept downstream. Once we got back in our boats we started going towards Normans.
Normans is a gigantic rapid at high water and is super fun at low water. There are lots of holes and big waves. The next rapid is Coliseum, at high water the tiny bit of flat water is so fast that the two are almost one rapid. Esprit keeps a boat between the rapids at high-water in case someone swims in Normans. Coliseum is a long strip of powerful waves and holes. After Coliseum we have Dogs Leg and Blacks Hole.
      Dogs leg is a big channel that turns 90 degrees into a very sticky hole. After the hole it is a wave train. Blacks hole was not very big when we were there, it was an eddy line hole. Next, there is a bit of flat water to the take out where an old man likes to show off on his jet skis! The guides load up the boats and you get on the bus for the 1 ½ hour ride back to esprit.
Words by Rowan (13 years old)
Photos below by Orin (10 years old)
Orin: Yellow/Purple Boat
Rowan: Red Boat
Our Dad: Yellow Boat
Our Mom: Blue Boat
The Rapids
Iron Ring
Butterfly
Dragon Tongue
Elevator Shaft
The Garb