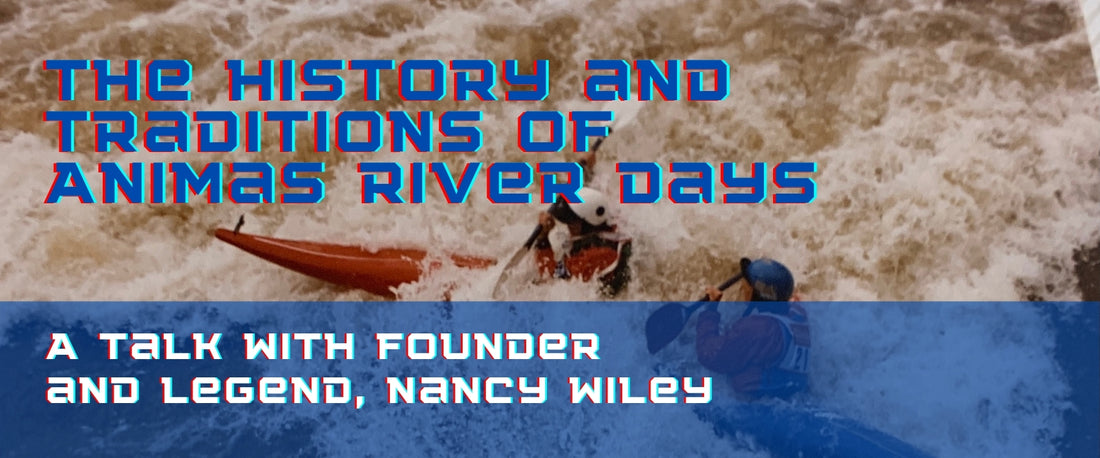 The History and Traditions of Animas River Days -- A Talk with Founder and Legend, Nancy Wiley
At long last–after one year hiatus due to the Covid-19 pandemic in 2020–Animas River Days will be returning to Durango June 4th to 6th, 2021! Animas River Days is the heart and soul of our community during the summer months, featuring nationally and internationally adored events such as: river surfing, stand-up paddling, freestyle kayaking, boatercross, raft and kayak slalom, an inflatable rodeo and–the local's favorite–costumed river parade.
We were so excited for the return of ARD, we reached out to the founder of the original event and locally famous paddler, Nancy Wiley. Nancy called us from her camper in the Mojave Desert, where she is deeply involved in the endangered desert tortoise conservation work–a career shift she began back in 1998 when she and her father sold 4Corners Riversports, and continues to this day.
Nancy's Inspiration, and the First Animas River Days
What we now call Animas River Days all started in 1983, as the Navajo Trails Fiesta Whitewater Rodeo. Nancy had been greatly into play kayaking, and she paddled at the Payette Whitewater Roundup run by Rob Lesser–the original inspiration for the event. There were a few rodeos and slalom races, and, "I thought, this is so much fun, this is the greatest. Holding an event in Durango would be quite promotional for our business," she told us. And so, she brought the concept to Durango.
Their event, planned in August (yes, that's right — back then the river was still going strong in the late-summer period), coincided with the regional fair and rodeo held at the fairgrounds called Navajo Trails Fiesta, hence the original name. That first year, they held slalom, whitewater race, and a whitewater rodeo–the freestyle event. The events were mostly held right behind 4Corners Riversports!
Wait, the first ARD wasn't held at the Whitewater Park?
Yep, you read that right! Nancy explained "Smelter back then wasn't much of a thing. A few years later, me and Mike Freeburn and Allen Small, who was a small equipment operator, and John Brennan,"–who, she joked, is still working for 4CRS because he never worked off his bill–"asked the City of Durango if we could manipulate a few rocks in Smelter. So the few of us, with the backing and the blessing of the city, we started to move the rocks around, and then we decided to put our permanent slalom course there."
They proposed calling it the Whitewater Park, which is still its name to this day.
Nancy shared that they very much had support from the city for Animas River Days. They saw what the festival event did! At one point an FLC professor worked with her on doing an economic analysis of ARD, and showed the number of people coming in, the money they would spend, and showed without a shadow of a doubt that it was good for the city economy.
The Evolution of Animas River Days
Nancy mused on the line, "The interesting thing about ARD is I always wanted to grow it, and make it bigger, and all the pros just came."
ARD was started as a truly small, hometown, and grassroots event, she recalls. It grew pretty rapidly into a national and internationally recognized event. "At one point I felt that it grew out of its britches!" she laughed. None of the locals were competing anymore, with so many international pros coming in for a chance at the prizes and the glory. After realizing that, they backed off slightly, didn't pursue so many prizes and products, and tried to make it a little low-key.
And then there were the youth programs. Nancy and her cohorts created Durango Whitewater to help put on the events and host kids training programs. Andy Corra–4CRS owner–and Mike Freeburn–top wildwater paddler–started creating young junior paddlers out of Durango that came out of the 4CRS kids paddling school.
We asked if Nancy expected ARD to go on so long, and to become what it is today: "I never thought of it continuing or not continuing, but I'm really excited that there's the energy, and that 4CRS recognizes that spending time, and spending money on organizing, and hosting the event is worth it."
To Paddlers and Boaters: What you should know and honor at ARD
Nancy says, when asked what she'd hope paddlers and boaters to know and honor as they go forth and play at ARD this year:
"Encourage the community to come out and enjoy. Whether they're watching on the banks at the dog park, or floating their boat, any craft — I appreciate how people appreciate our Animas River. You see the businesses in town reach out to the river and appreciate it like never before. It fills me up to see how people love it."
Animas River Days 2021
So, Durango and surrounding river folk, we'll see you there, at Animas River Days, June 4-6. Check out the schedule of events to know where to be, when!
Some good information for this year:
You won't want to miss this year's

ARD Auction

! The best selection of prizes yet, some of our auction items include Alpeka Gnarwalh, Jack's Plastic Cataraft, ​NRS Expedition DriDuffel Dry Bag, and so much more. Go to the auction here:

https://www.animasriverdays.com/online-auction.html

Saturday's famous

River Parade and Viewing Party at Santa Rita Park 2021 theme is "bringing our community back together"

–so be sure to come down to Santa Rita Park before 5:00pm to secure a good viewing spot, and dress to theme!

If you're aiming

to compete in any of the events

, it is HIGHLY ENCOURAGED to register online in advance! You can register

HERE

.

ARD is embarking on an initiative to become a

ZERO WASTE EVENT by 2022

!

Learn more about the goals of the program

, and if you'd like to become a Zero Waste Ambassador, email us at animasriverdays@gmail.com.
Huge thanks to Nancy Wiley for taking the time to chat with us, and to you all for supporting Animas River Days! Happy paddling!