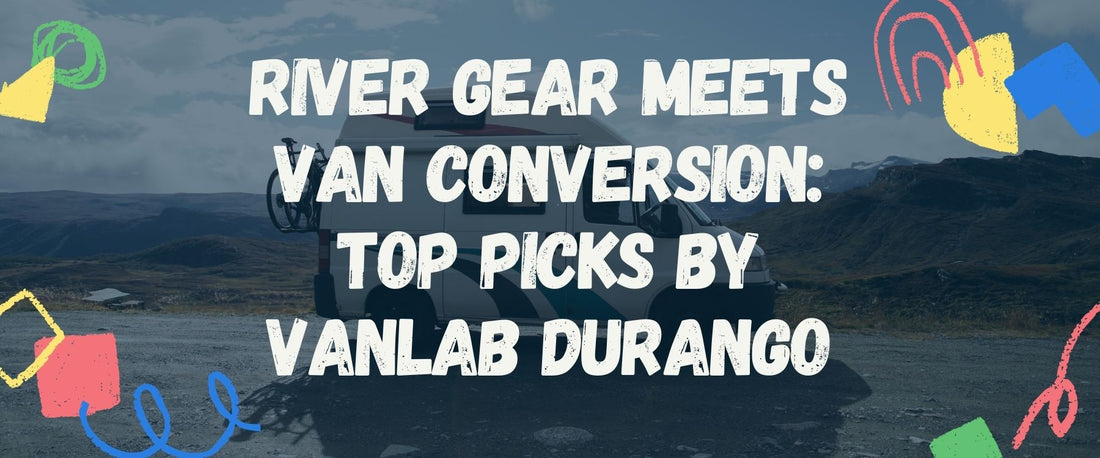 River Gear Meets Van Conversion: Top Picks by VanLab Durango
If you love the outdoors, chances are you have run into–or even own, yourself–a van converted for outdoor adventures and shenanigans. A conversion van is a cargo van that is outfitted with various gear and "luxuries" for road trips and camping, and is highly prized among many travelers globally.
During our time appreciating riversports, we've had the pleasure of introducing some great gear to those in the #vanlife tribe, and vice versa. This month, we teamed up with VanLab Durango to try out some of our favorite riversports gear and show us how it would roll in a van conversion set up.
Here are our top picks from our play date:
Paco Pad by Jack's Plastics
Jack's Plastic Paco Pads are the reigning kings of riversports and car camping sleep gear. After one night on a Paco Pad, it's hard to imagine using anything else out in the wild.
Each Paco Pad is constructed with waterproof, heavy duty PVC (the same material used to build rafts) enveloping high-density foam, featuring a water tight, self inflating air valve. They're designed for all types of rough environments, and are resistant to wear and tear as well as providing a level sleeping surface even on rocky ground.
We tried the paco pad out in the van, and were happy with the results! If your dream conversion doesn't include a wall-to-wall mattress, the Paco Pad can fit in a much smaller area and still provides amazing comfort. Since it rolls up and rolls out, it's ideal for the van enthusiast who sometimes likes to sleep under the stars, or hop on a raft from time to time. Bonus Functionality – The Paco Pad is an awesome insulator for coolers when laid across the top of them, adding extra life to your ice.
Versatile, compact, durable, and delectably luxurious, we can't recommend Paco Pads enough for our water and land enthusiasts alike.
Check out our Paco Pads in various sizes:
Pickup Paco Dimensions: 2" x 48" x 72" 
Full Paco Dimensions: 1.5" x 24" x 72" 
Super Paco Dimensions: 2″ x 28″ x 78″ 
Grande Paco Dimensions: 3″ x 27″ x 72″ 
Silverback Paco Dimensions: 4" x 26" x 78" 
Guide Paco Dimensions: 2" x 28" x 72" 



Paco Pads are great for the whole family! Photo by Ashleigh Diaz.
Partner Steel 2-Burner or 4-Burner Camp Stove with Windscreen
If you love to cook on your outdoor adventures, there's nothing that beats the Partner Steel 2-Burner or 4-Burner Camp Stove with Windscreen. Made from high-grade, hand-welded 5052 aluminum, the Cook Partner is designed to remain rust-free with very low maintenance and to last for years even in the most harsh environments. Each burner lifts out for easy cleaning, and delivers 10,000 BTUs. It comes with a regulator hose, and works with standard propane tanks (which every van should already have as part of their arsenal).
The Cook Partner is also somewhat customizable, which is great for fitting existing set-ups. There are three widths available: 16″, 18″ and 22″. The regulator hose fittings can be on the right or left side (just specify to us when you order or come to pick up).
Check out the Partner Steel 2-Burner Camp Stove 
And the Partner Steel 4-Burner Camp Stove
NRS Primus Profile 2-Burner Stove
Do you love cooking out of your van, but aren't looking to bust out the big bucks for the Cook Partner? The NRS Primus Profile 2-Burner Stove has got you covered. It folds easily, locks up, and has a convenient carrying handle for mobility throughout your van, campsite, or beyond. It has an effective wind shield, and also comes with a hose and connector for the smaller Coleman-style propane cylinders. It's also a cherry red color out of the box, which may or may not fit your conversion van decor!
Check out the NRS Primus Profile 2-Burner Stove 
NRS Primus Profile 2-Burner Stove in the wild. Picture by Ashleigh Diaz.
Woodland Power Stove (aka "The Blaster")
Have you ever heard the phrase "a watched pot never boils"? Well, not with a Woodland Power Stove, also lovingly referred to as "the blaster". Watch it all you want. The blaster, cranking out an astounding 65,000 BTUs at full blast, is a must-have for coffee lovers (yes, we're serious, enjoy your cuppa joe in record time with this one), and folks who tend to have a lot of dishes to do needing freshly-boiled water for sanitation. The stove, made entirely out of heavy gauge stainless steel, can support over 100 lbs of weight. Not only that, but it folds down into a small 12" by 12" carrying bag and weighs only 5.5lbs.
The high-quality UL-listed regulator comes with a 48" hose that fits propane tanks of all sizes, and allows you to adjust the output from 5,000 to 65,000 BTUs. The hose and regulator boast a one-year warranty, and the stainless steel parts of the stove are warrantied for life.
Many river sports enthusiasts would never embark on a river trip without a blaster, and VanLab Durango agreed it was quite an addition to the van set-up.
Check out the Woodland Power Stove 
"The Blaster" set up outside of a van, ready to cook. Also pictured: Canyon Cooler, Water Jug, and Paco Pad. Photo courtesy of VanLab Durango.
Canyon Coolers
What's cooler than being cool?
Ice cold.
Keep your perishables and drinkables ice cold with a Canyon Cooler. Canyon Coolers are purpose built in Arizona for long adventures and extreme environments. They are capable of holding ice for a week or more, and come with a lifetime warranty. They also have many different sized options to suit your specific needs. Versatile for rafting, hunting, camping, and van travel, you really can't go wrong with one of these.
Check out the Canyon PRO coolers, or Canyon Outfitter coolers in our online store or at 4CRS Durango retail outlet.
See photo of the canyon cooler in a conversion van above!
Scepter HD Water Jugs
Water check! Whether you're on the water or the land, one thing is certain: You need to have potable water on hand for your hydration needs. It's recommended that you bring 2 gallons of water per day per person for any outdoor excursion. We carry high quality, durable water jugs like the Scepter HD Water Jug that are great for rafting, camping, and van life activities.
See a photo of the Scepter HD Water Jug in a conversion van above!
GSI Santoku Knife Set
The Santoku Knife Set is a cooking knife set perfect for the river, camping, and of course van cooking. Keep all your prep gear organized easily in this 11.5" x 7.5" case, which includes a 4″ Paring Knife with Sheath, 6″ Santoku Chef's Knife with Sheath, 6″ Serrated Bread Knife with Sheath, Folding Cutting Board (which folds out to 9" x 12.6" in size), Soap Bottle, and a microfiber Dish Cloth.
Visit 4Corners Riversports store to pick up your Santoku Knife Set today!
GSI Santoku Knife Set includes a foldable cutting board. Picture by Ashleigh Diaz.
Miscellaneous Creature-Comfort Selections
Nothing speaks raft or van outdoor experience more than the small creature comforts that you otherwise may have to ditch in a smaller craft or on your own two feet.
Some of our favorites are:
Cozy conversion van site. Photo courtesy of VanLab Durango.
A Wonderfully All-Inclusive Conclusion
Whether you love river trips, long outdoors-oriented road excursions, or fun and comfortable overnight glamping with your converted van, the gear we've highlighted here has been reviewed and approved by 4Corners Riversports and our local van conversion experts VanLab Durango.
Come by our shop to see what we have to offer, and most importantly – Happy Travels!