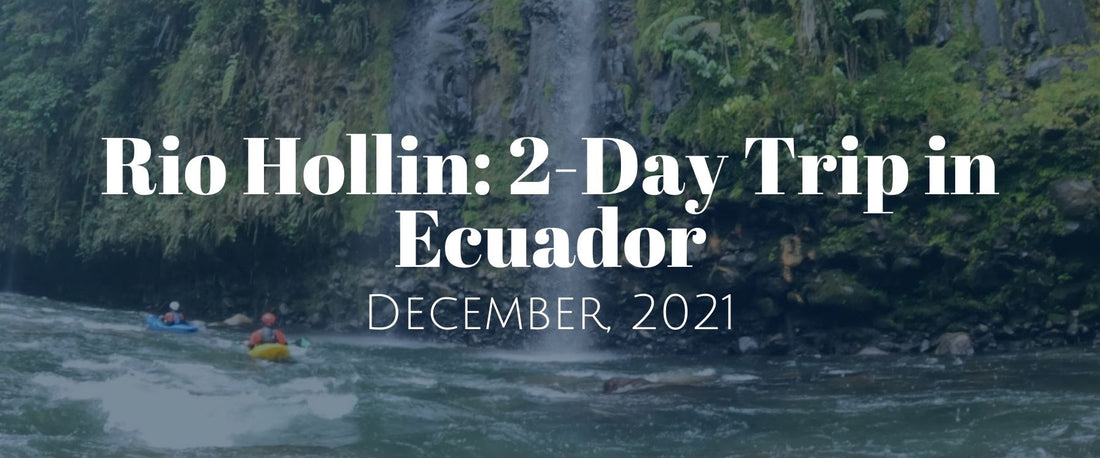 Rio Hollin: 2-Day Trip in Ecuador
In October of 2021, a small group of us in Durango, CO started throwing around ideas of traveling during the holiday break in December. For the past 2 years, we've been working on going to Nepal yet with Covid and so many issues around traveling, and Nepal being in a pretty rugged state with the pandemic, traveling there seemed highly unlikely. We put together the logistics for that trip yet it seemed like a long shot.
Enter Ecuador…a padder's paradise with easy logistics and a short flight. Some of us had been there before albeit a while ago, so it seemed like going back would be a great trip. I contacted my good friend Abe Herrera about the trip and together, he and I started figuring out the logistics. We were going for 12 days, 2 of which were to travel so in all, we had 10 days of kayaking planned. With so many rivers close to Baeza, the center of the Ecuadorian kayaking world, we knew we could get in a bunch of runs, and then travel south to Tena where a plethora of rivers awaited and it would be warmer. On our hit list of rivers around Tena was the Rio Hollin. I hadn't paddled it on previous trips and started reading what I could find about it. It sounded very intriguing. 50km long and done as a long day or a 1-day overnight, the Rio Hollin cuts through the middle of dense untouched Ecuadorian jungle. It's lower in elevation than the runs around Baeza which meant warmer days, nights, and water temps. I put this down at the top of runs I wanted to do on our trip.
If you've never camped in the jungle and are not familiar with that style of camping, it's quite the eye opener. I lived in Honduras C.A. for 3 years in the 90's with a sick crew of mates and we ticked off quite a few first descents in the region back in those days all of which were in the densely forested jungles of that country. We got used to camping like that back in the day yet I had to knock the cobwebs off my brain and remember what camping like that was like.
For this trip, we met to discuss logistics for a jungle overnight and what was needed to camp out. Abe also joined in the conversations and with his suggestion, we decided to bring hammocks, bug netting, and sil-nylon tarps to use as our camp set up. It made sense because all of the things that are going to zap you tend to crawl around the ground at night. A little research and online shopping, and we each had our own jungle camp set up. All we needed now was to get to the put in.
One of the key things we did for our Ecuador trip was hire a driver and a vehicle for the entire time we were in Ecuador. With the pandemic raging and Omicron wreaking havoc on people, we knew that having our own driver and vehicle eased up so many of the logistical problems that could have happened and also guaranteed us a Covid free situation at all times. We could be our own contained group not worrying about Covid and exposure with other paddlers and people. It was also affordable and we always had someone to help out when needed.
Our original plan this day was to paddle the upper Jondachi and then to go Tena for the night. Leaving Tres Rios in Borja and looking at levels posted online, the upper Jondachi was too low, so we scrambled quickly to make the Hollin trip happen. A little food shopping and we took off. Diego, our driver knew where to go so we headed to the Rio Hollin pretty darn stoked for an Ecuadorian overnight. At the put in, the temps were much warmer than we were used to and there's an awesome 50 footer that gets run pretty often yet was a little low for comfort when we were there. We packed up our stuff, double checked everything, and hiked down the trail to put on the river in a wicked, forested, jungle canyon.
Paddling in the Amazon - Rain and Floods
Things can change in Ecuadorian river canyons in a second due to rain upstream and many folks have been caught in less than desirable conditions because of this. Unfortunately, paddlers have also died because of the flash flood nature of some of the runs and we knew this heading into this canyon. At the time we put on, the skies were blue all morning with some clouds but nothing threatening. This was soon to change…
Shortly after putting on, we arrived at our first challenge…a sweet grade IV/IV+ rapid that had us boofing into a cave! There was a log we had to duck under right above the boof too. The exit out of the cave was through a sweet multiple drop rapid ending in a pool. What a wicked way to start the trip. When we arrived at this rapid, it was raining but not very hard. We scouted the drop figuring out the best line and then took turns boofing into the cave. At the bottom of this rapid, safe and sound, we were all smiles. Paddling away from this drop and heading into the next one, the weather started changing and it began raining really hard and I mean a downpour.
We were in a tight granite gorge surrounded by intense jungle and it was really coming down. The rapids at the start were in the GradeIV/IV+ range and with the rain we were concerned that things would get out of hand quickly. Approaching Hollin Falls, a multitiered boulder garden and the biggest rapid on the run, the rain was ridiculous. We realized that it was time to get going downstream so we put our heads down and started routing rapids all the while terrified that the river would flash.
After several read and run grade IV rapids, a side canyon came in on the left flash flooding dark brown water and changing the river from clear to mud.
The side canyon scared us and we thought that every side canyon would be doing this. Waterfalls started pouring in from the canyon walls and although beautiful, only alarmed us more. We started paddling faster.
After a while, we were able to get in front of the brown water and back into clear water again and about 11km into the run, we found ourselves at the camp that most paddlers use. The rain also started to subside and blue skies appeared.
At camp we started setting things up. Hanging things to drip because nothing really dries, standing kayaks up vertically so critters couldn't climb into them, and setting up our jungle hammocks to crash in.
Camp had a sweet perched small sandy beach which is where we hung out most of the time. There was also a beautiful waterfall entering into the river canyon from the river right directly across from us. Spectacular.
I mentioned to Kevin that we should get water filtered while it's still clear because soon the brown flash flood water would catch up to us. No sooner did we fill up our gravity system, then the brown water caught us and the river doubled in size literally before our eyes. Such a strange dichotomy to have a raging river turning brown and doubling in front of our eyes and the skies opening up to crystal clear blue and gorgeous. What a spot!!!!
We searched around for dry firewood because we wanted a fire and after a wee bit of effort, we collected enough semi-dry firewood to give it a go. Fire in the jungle is a difficult task because everything is so wet and soaked through and through. An old trick I learned back in the day was to split wood and splinter off wood from the center. That's where the driest stuff is found. We also found semi dry material under rocks and under overhangs. I felt pretty good about our situation.
Camping that night under the Ecuadorian stars, without clouds and rain, listening to the jungle was a magical experience. We got a sweet fire going, had a great meal, had a little spirits and beer, and laughed the evening away. Sleeping in the hammock with the jungle alive around us was wild. So much movement and noise.
The next day started with sun and heat. The river had dropped yet was still brown, and the mood was light. We had 40km of paddling drop/pool rapids and many beautiful waterfalls pouring in from the sides.
This section of river is pretty chill. Long sections of moving water, grade III/III+ rapids for the most part with the occasional harder one. It's easy to make distance and also easy to continually check out the landscape. Even though the river was brown, we found many side creeks with clear water to refill out filter bottles and there were several significant side drainages coming in to add volume to the run. I was continually blown away with the jungle and wildlife. A truly magical and amazing place to be.
Our 2nd day was hot and humid…real hot and humid. Knowing we had 40km of paddling we got after it early hoping to get to the takeout by 3pm which is when we asked Diego to get us. The canyon was spectacular…green, lush, wild, and remote. Waterfalls poured in from everywhere.
We stopped at a massive waterfall to check it out and swim in the pool below it. It was also a great place for a snack and water refill. We took out at the only vehicle bridge that crosses the river and laid things out to dry in the hot Ecuadorian sun.. Did I say it was hot and humid?? Diego made it on time as expected and we loaded up and headed into Tena for the evening. If you're staying in Tena you should check out Casa de Abuelo. It's in old Tena and is in a quiet neighborhood close to everything. It's affordable and awesome. Thanks Don and Darcy for the tip!!!!
The Hollin is a fantastic trip and one you could easily knock out in a day... a long day. Yet there's just something so special about overnights and they are, by far, my favorite way to kayak. If you can do it and have the resources and time, then why not?