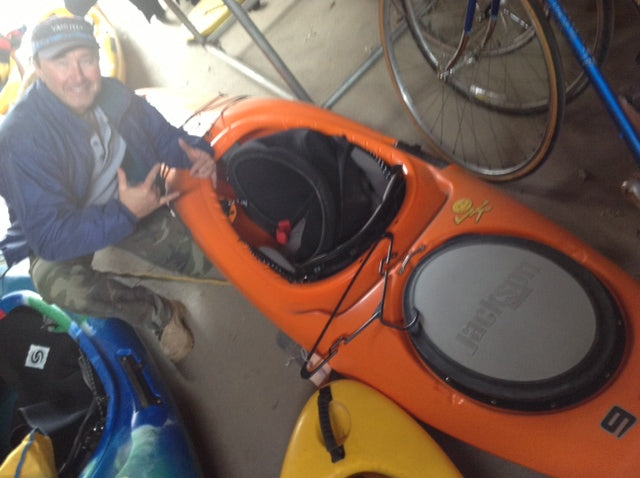 Prepping for the Grand Self Support Kayak
Coming up in ten days I have a Grand trip, which we've opted to do purely self support by kayak. Luckily, Four Corners Riversports has a brand new fleet of rental demos, including full size runs of the Jackson Rogue, the WaveSport Ethos, and the Liquidlogic Remix. So most paddlers on our trip are renting these crossover boats. Easy!
We spent a snowy day last week checking out the boats, and dialing in things like sprayskirt fit (your existing skirts won't fit the larger boats). A few impressions: The Jackson Rogue, like with the other companies, comes in a 9 foot and 10 foot version. The coolest feature of these is a very clever sliding front wall, locked in place by a bungie. This allows for easy access to the front hatch. Sold!
WaveSport Ethos has an interlaced front wall and bulkhead footbrace system that is sure to provide a secure footbrace in harder water situations. Running the steeps this would be an awesome safety feature. And I suspect the hull design is a delight to paddle. Unfortunately, to get behind this bulkhead is a pain. It reminds me of wrestling with foam walls in boats of 20 years ago. Take out two screws in the deck, take out bulkhead nuts (The leash on one of these broke in the first attempt- so I can imagine someday it will be gone and need replacing. Did you lose those two screws yet?) So we are not taking this boat on the Grand, but I look forward to paddling it on a one or two night trip when I can avoid loading the bow.
The Liquidlogic Remix is the standard setter in this category. LL annual trips in January for their dealer network have helped re-launch the appeal for self support on rivers, and refine the boat design. Their extensive experience in self support shows. The only complaint here is that the XP9 is a bit small (visually similar to a Remix 69), and the XP 10 is large. Think "Woody-sized". You may know him as the popular road rep for Liquidlogic. His massive frame fits easily. A few years ago I had a chance to trade boats with him on the San Juan River, and as credit to their NASCAR inspired outfitting, was able to easily adjust into the boat. I paddle it happily with a seat pad to give me height. Still, I wish there was a 9.5 for the tweeener sized people like me. 5'10" 165. Their new front wall design is minimalistic, instead leaving you to retrofit a wall/ groover combo in the front. (Most self support trips on permited rivers allow for homemade PVC tube groovers.)
Once we get these boats battle tested on the Grand, I will give you a more complete report.