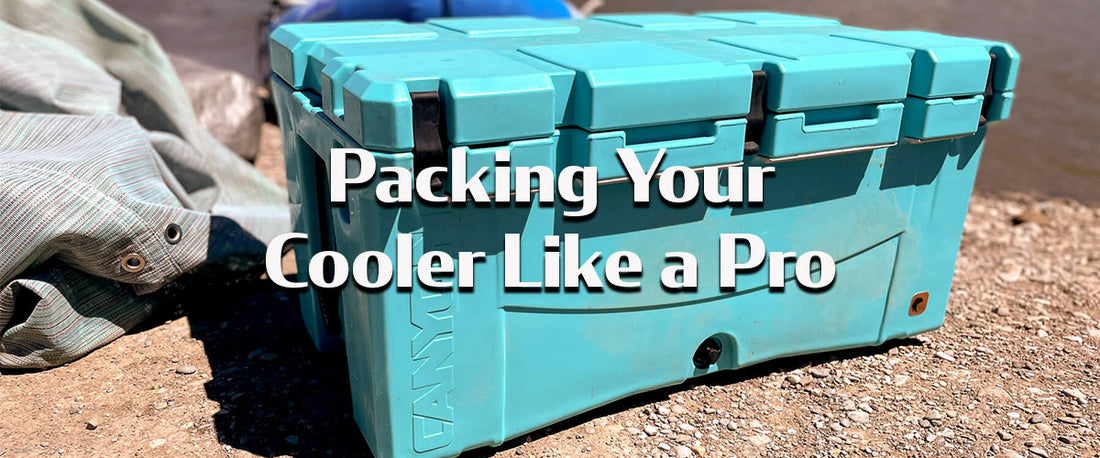 Keeping ice in your cooler in the arid southwest always proves to be a challenge. Imagine day 5 of your trip and your filet mignon has been baking in the heat with no ice to keep it cool. We talked with some pros from the Grand Canyon on the best way to keep ice for extended trips or to simply have a cooler, colder than your refrigerator.
What the Pros Say
Starting with a cold cooler is always a plus. We recommend leaving a few blocks of ice in the cooler overnight the day before you pack to cool down the inner temperature. This will improve ice retention dramatically. Also, who knows, 4CRS might sell blocks of ice soon.
1 Cooler Trip
If you're going for a longer trip 5+ days, we highly recommend combining dry ice and block ice. Maybe look into the Canyon in larger coolers like the Canyon Prospector, Navigator or Outfitter 125, you should start with dry ice, wrapped in a paper bag, laid on the bottom layer on the left and right side of the cooler. You will want to then put 3-4 blocks of ice stacked in the center. This automatically gives you organization. You can load your cooler with breakfast items on one side and lunch/dinner items on the other. It is a good idea to freeze your meat and put them towards the bottom of the cooler as well. This not only ads as "ice" but will prevent your meat from going bad. (Don't freeze fish, it doesn't turn out well).
2-3 Cooler Trip
Starting with the same method, we recommend pre-cooling all coolers with ice. Though if you are out with a couple of friends, each of whom have a cooler, your organization skyrockets. Three coolers is optimal, plus makes a river trip more fun with more friends. If you have three coolers to work with, we recommend a meat/ice cooler, a dairy cooler, and a fruit/veg cooler.
The meat ice cooler should have 3-4 blocks of ice layering the bottom of the cooler with frozen meats stacked in and on top. Only open this cooler when you need to (generally once a day).
The dairy cooler keeps all things dairy. Milk, eggs, cheese, yogurt, lunch meet, ect. This cooler is also a staging cooler for breakfast and lunch meals. It should be packed like a 1 Cooler Trip. It's a good idea to bring a couple 4CRS Mesh Organizing Bags to stage food in this cooler. Each evening you can shop the next day's breakfast and lunch and have those meals staged in grocery bags for ease of grabbing all the food you need when you need it (limiting the amount of time searching in coolers during the heat of the day).
The fruit/veg cooler usually is the hardest cooler to maintain. We recommend packing the fruit/veg cooler with large long-lasting fruits on the bottom, grapefruit, oranges, honeydew, or apples. This leaves space for more perishable fruits and vegetables in the top of the cooler away from inevitable water after a few days in hot sun. This cooler should be packed like the dairy cooler with stacks of ice in the center, with all your goods packed around.
Beer Cooler (or soda)
Arguably the most important cooler. This is your secondary cooler full of drinks and beer. We recommend the Canyon Outfitter 55. For packing this cooler it is highly important to pre-cool the day before you pack. The ice combo for this cooler should be a mix of dry ice and ice to keep it cold for the entirety of a trip. You can't be drinking warm beer on day 6. Also, put cold beers in this cooler, warm beers will only melt the ice quicker. If you can't get all your beers for the whole trip in this cooler, we recommend storing a couple 30 racks deep in your raft where they will be hidden from the sun to restock later.
*Pro Tip: Add two layers of Double Bubble Reflective Foil on top of all food in each cooler for additional insulation.