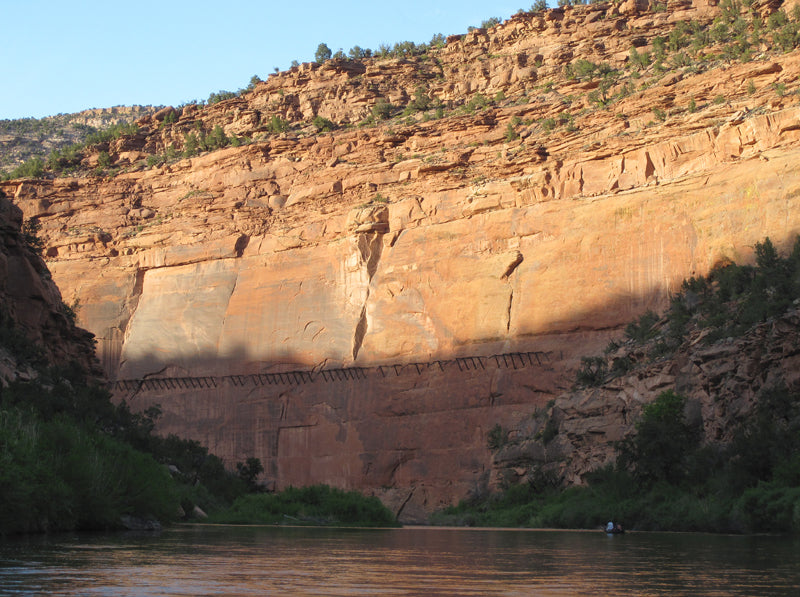 Off the Beaten Path Self Support with Kent Ford
Low Water, No Problem. This is unfolding to be the perfect year for a lightweight self support trip on the lower Dolores, using San Miguel water free-flowing out of Telluride. Why not explore some off the beaten path runs! Choice boats would be canoes, tiny rafts, or crossover style kayaks with hatches. (available rentals from riversports.com in Durango)
Several trip options: San Miguel Norwood Canyon/Ledges 20 miles. 1 night or start further up and get 2 nights? This is pretty busy Class II+ water, but not hard. Busy Class II+ at low water. This has several awesome camps halfway through accessible only by river. Then a continuation of the takeout road gets access to Cottonwood and Ledges Rock House Campgrounds. These are BLM run and open to road access but hardly ever used.
Dolores River after the San Miguel Confluence to wherever you choose. The Hanging Flume Section has pretty spectacular scenery, but the historical flume impairs the experience for the purists. Kid friendly layover 2 miles below confluence. The run can be done at really low water. Like how much water do you need to go 5 miles in 3 days?
Introduce the little ones to camping out of a kayak. From the Dolores San Miguel Confluence to Gateway is 23 miles. 18 of it virtually along the road for easy kid friendliness. Not many, but some camps exist. At low flows you might settle for an island camp. There is car noise, but it is tolerable if you focus on the canyon walls. Gateway to the Colorado (Dewey Bridge) 30 miles. I've done this at 220 cfs back in the mega drought year of 2002. That was too low. In retrospect we needed another 10 or 20 cfs, and a mentality of going much lighter. We scarred the bottom of the canoes on that trip pretty bad at that level. I bet 250-300 cfs would be delightful self support kayak for 2 nights 3 days.
Extend that on the Colorado until you have to get back to work. The top of this run is lightly impacted by ranches, and the lower portion starts to have some 4 wheeler spillover from manic Moab. But the middle sections are Wilderness Study areas, and offer super nice hiking and camps. The rapids in this section have the same big rock character of the Dolores canyon between Slickrock and Bedrock. Paddling out from 200 cfs onto 10,000 cfs of the Colorado is another trip highlight. Any hammer mountain bikers in your group? Have them set the shuttle up and over the shoulder of the La Sals. Continue on the Colorado to extend the trip.