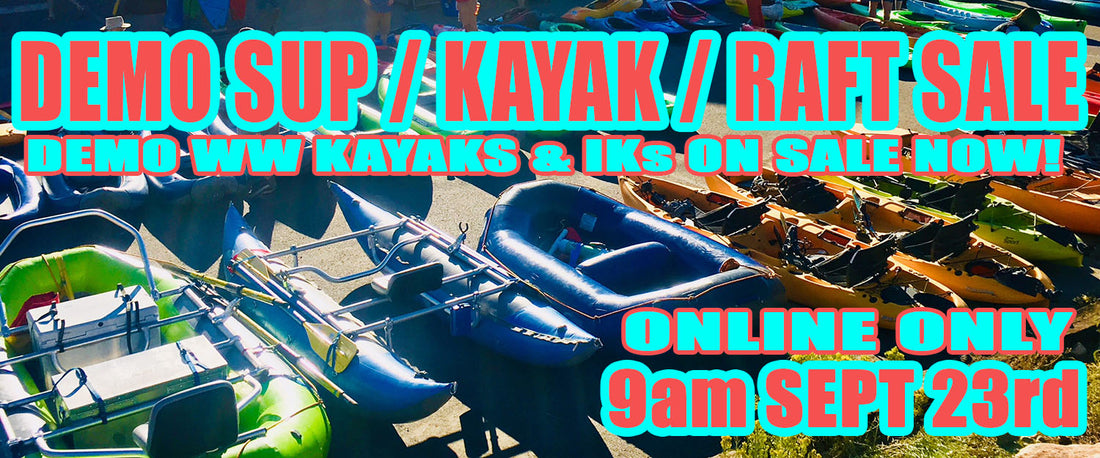 Demo SUP, Rec Kayak, Raft & Gear Sale - Sept 23rd
Demo SUP, Rec Kayak, Raft & Gear Sale – Starts September 23rd
In any normal year, we fill our parking lot with all of our rental & demo boat / boards and gear! But with COVID, we're doing things a bit differently this year (surprise…)! We'll be spacing out our demo sale by item type, starting with our Demo Whitewater Kayaks & Inflatable Kayaks (on sale now) followed up by our Demo SUP, Rec Kayak, Raft & Gear Sale starting at 9am MST September 23rd! We'll also have a selection of new items on sale ranging from 10% to 50% off!
The sale will be ONLINE ONLY to avoid large in-store crowds, but we'll still be giving priority to our "locals"! The first two days of the sale (Sept 23rd-24th) will be for in-store pickup orders only. You don't necessarily need to be a true local to shop the sale on Sept 23-24, but you will need to come pick your order up if you place it on the 23rd or 24th.
On Sept 25th, we'll then open the sale up to customers that need their order shipped. All used / demo orders will ship at exact cost to the customer, and will be calculated after the sale is completed. Shipping prices listed are an estimated total, actual rates will vary by location. We will contact you with the pricing difference to collect payment (or issue a refund for overpayment) before the order ships.
All boats, boards and gear will have their general condition listed and flaws highlighted to the best of our ability. All models are 2020 versions unless otherwise listed. Please call us with questions if you need more details. All used / demo gear comes as-is with no implied warranty. Used item sales are final once they leave the premise. We will give local pick-up customers the options to return item(s) after purchase but before they leave the store. Once you walk away with your item, it is yours.
A full list of gear, including pricing and item conditions will be announced a few days prior to the sale. Keep an eye out on our Used Gear page for that posting.