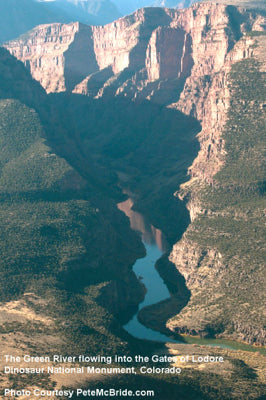 Campaign to Oppose the Flaming Gorge Pipeline
Please join us, along with American Whitewater, Colorado River Outfitters Association, American Rivers and many other businesses and river advocacy groups in opposing the Flaming Gorge Pipeline. The Flaming Gorge Pipeline, also known as the Regional Watershed Supply Project, is a proposed water pipeline system that would divert up to 250,000 acre-feet of water from Flaming Gorge Reservoir, out of the Colorado River Basin, to the Front Range of Colorado. The project costs are estimated to exceed $6 billion, with water costs over $4500 per acre-foot per year. Proposed by private entrepreneur, Aaron Million of Fort Collins, Colorado, the project aims to utilize the Green River near the Wyoming/Colorado border and the Interstate 80 corridor in Wyoming to bypass some of the physical and political challenges of diverting Colorado River water from the Western Slope of Colorado to the Front Range.
What is the Flaming Gorge Pipeline? • A 560 mile water pipeline diverting 81 billion gallons of western slope water a year to the Front Range at a total cost of $7-9 BILLION Dollars, with water costs over $4500 per acre-foot per year. • Construction is dependent on Taxpayer Subsidies. Why Oppose? • Flaming Gorge water will be the most expensive water in the history of Colorado by costing up to 10 times more than any other water in Colorado. • Taxpayer subsidies may be over $370 million dollars PER YEAR! That taxpayer money could divert money from schools, roads, and more practical water storage projects. • The project has not proven its compliance with the Endangered Species Act or the Record of Decision on Flaming Gorge Operations. • The severe environmental, economical, and recreational impact of the project on the western slope. The Green River is the largest tributary of the Colorado River, and carves some of the most iconic river canyons in the West, such as Lodore Canyon in Dinosaur National Monument, Desolation-Gray Canyons, and Stillwater Canyon in Canyonlands National Park. The Green River sustains world-class recreation and tourism economies, endangered fish species, and critical riverside habitats in the Green and Colorado River basins.